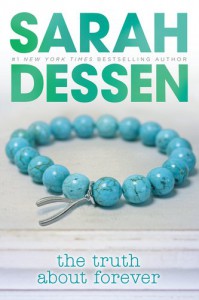 I stumbled upon this book when I was browsing through the list of Best Young Adult Realistic Novels yesterday. Though there were many interesting titles, I couldn't just ignore this one. It sure felt like it was calling to me.
The Truth about Forever is a story about Macy, a 17-year old girl who's trying to cope with the loss of her father. Her coping mechanism? Being the perfect daughter to her mother. She has a boyfriend, Jason, who goes to the summer camp and mostly not presented in the story per se but still contributes a great deal to the development of the story. Macy works in the library, temporarily filling in Jason's position for the summer. She hated the job through and through. One circumstance after another, she finds herself working with Wish Catering. There, she meets and befriends with Delia, Kristy, Wes and Bert. Day by day, Macy begins to unravel, becoming a girl of a different aura. She finally learns to cope with her father's death by not shutting herself down, but to actually savour the emotions she has been holding on all this while.
I love everything about the story. It started off well, slowly (but necessary) picking out the pace and it was engaging. Delia was hilarious and I liked that she always had solutions no matter how terrible the situation was. Kristy might seem wild, but she's a good friend at heart. Bert, well, he was hilarious too. Wes, oh Wes. I wish men like you exist. Such a fine art. Sigh.
Sarah Dessen gives a new definition to forever; while it may last to infinity for some, our forever may also be this very minute, this very hour or this very day.